Celebrate the publication of THE VIP DOUBLES DOWN with me on April 19th from 7:00 p.m. – 9:00 p.m. EDT on Facebook. Join the fun by clicking on the "Join the party" button.

There will be all kinds of giveaways, Facebook Live video where you can ask me anything, and teaser quotes. We're going to have a blast.
If you can't attend the party, make sure to check my Facebook profile where I will be giving away even more goodies from April 18th (Release Day) through the next six days.
Make sure to pre-order THE VIP DOUBLES DOWN now, so it will be on your doorstep or your Kindle the day it launches.

Not sure what it's about? Here you go: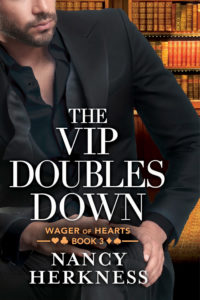 In the witty, sizzling finale to award-winning author Nancy Herkness's Wager of Hearts series, a haunted writer conquers his demons with the help of a feisty muse and a passion that doesn't play by the book.
Gavin Miller, the billionaire author of a bestselling thriller series, struggles with a grim secret: he hasn't written a word in over a year.
Writer's block is killing his spirit and jeopardizing his contracts with his publisher and his Hollywood producers. Prodded by his agent, Gavin reluctantly agrees to see Allie Nichols, a sassy physical therapist tasked with treating the novelist's severe neck and shoulder pain—and maybe his writer's block, too.
The tempestuous Gavin and no-nonsense Allie soon find themselves entangled in a steamy affair that sparks Gavin's creativity again. But their manipulative ex-lovers and Gavin's lingering childhood scars threaten their happily ever after. Can Gavin and Allie find their way to love when the stakes are high and the obstacles are overwhelming?