For my readers in the UK:
If you love my Wager of Hearts billionaires, you'll enjoy Randall Johnson in A BRIDGE TO LOVE. He's rich, he's got a sexy Texas accent, and he's falling for a single mom who only wanted a one-night stand. Only 99p on Kindle in the UK until April 24th, so grab it while it's on sale!

UK only!
Here's the whole story summary: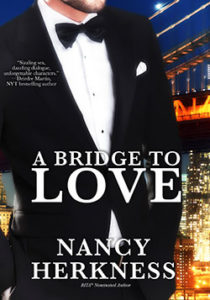 Widowed a year ago, Kate Chilton struggles to raise two young sons alone, drawing on memories of her happy marriage to help her through the tough times.  When she discovers that her marriage was not what it seemed, the foundation of her world is shattered.  Wounded and angry, Kate decides to spend one night with a man and then forget him.  She finds the perfect candidate in notorious womanizer Randall Johnson.  Magnetically attractive, he has a reputation for loving and leaving.  But Randall's reputation is about to change….
Driven to escape from his dirt-poor childhood in rural Texas, Randall claws his way up the ladder of success on guts and ambition.  He has no time for love and chooses only women who understand his rules.  Kate Chilton is definitely not his type, no matter how the electricity crackles between them.  When she invites herself to dinner, his curiosity is piqued.  When she kisses him, his self-control goes up in flames.  And when she tells him he's just a one-night stand, he refuses to take "no" for an answer.
Kate must build a bridge from her shattered past into her future.
 Randall must bridge the gulf of distrust between himself and the one woman who can reach his heart.