SECOND TIME AROUND is up for pre-order!
Dear Wonderful Readers,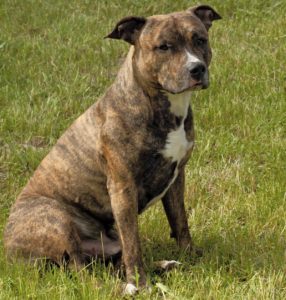 SECOND TIME AROUND, the first full-length novel in my new Second Glances series is up for pre-order on Amazon. There's no cover yet because my publisher is working hard to get it just right. So I'm using a photograph of Shaq, the pit bull with the sensitive stomach, who draws Kyra and Will together.
Want to know more about SECOND TIME AROUND? Here's the description:
Kyra Dixon, a blue-collar girl from the boondocks, is dedicated to her job at a community center that matches underprivileged kids with rescue dogs. When she runs into Will Chase—Connecticut blueblood, billionaire CEO, and her old college crush—she's surprised that he asks a favor from her: to be his date for his uptight family's dreaded annual garden party. If his parents don't approve—all the better.
 Kyra's not about to say no. It'll give her a chance to be oh-so-close to her unrequited love. What begins as a little fling turns so mad-hot, so fast, that Kyra finds herself falling all over again for a fantasy that won't come true. How can it? She doesn't belong in Will's world. She doesn't want to. But Will does want to belong in hers.
All he has to do now is prove it. Will is prepared to give up whatever is necessary to get what his heart most desires.
I hope it sounds good to you! The book releases on July 24th. Here are the links to pre-order it so it arrives right on publication day:
Kindle:  http://amzn.to/2mvEep4
Print: http://amzn.to/2DxgSrr
Audio: http://amzn.to/2FBfSTA
Many thanks for all your support of my stories! I couldn't do this without you.
Warmest regards,