Free novella when you subscribe to my New Book Alert!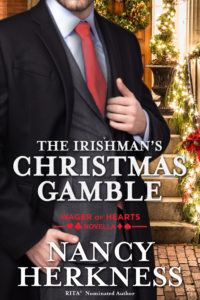 If you'd like a free copy of The Irishman's Christmas Gamble on your Kindle, just sign up for my New Book Alert. Make sure to confirm your subscription when Vertical Response sends you the follow-up email. Then you'll receive my welcome email with the link to the free download. It's my way of saying thank you for sharing your email address with me.
For those waiting for Gavin's story, The VIP Doubles Down (Book 3) is nearing publication date: April 18, 2017. I can't wait because this is a book of my heart: the hero is a writer! And I adore the cover, one of my all-time favorites. You can pre-order it now here.
Wishing you wonderful reading!
Warmest regards,