Latest Release
How do you like my new website?
I'm loving the fresh new look, and it's made in Wordpress so I can update it myself. You know how writers are: total control freaks. LOL!
If you find any glitches, I'd be most appreciative if you'd let me know. You can email me at nancyherkness@gmail.com. There's almost always some little detail or typo that needs fixing.
For those waiting for Gavin's story, The VIP Doubles Down (Book 3) is nearing publication date: April 18, 2017. I can't wait because this is a book of my heart: the hero is a writer! And I adore the cover, one of my all-time favorites. You can pre-order it now here.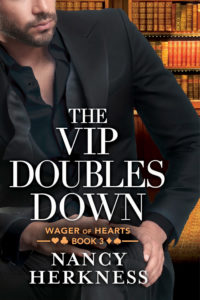 If you haven't read the other Wager of Hearts novels, you might want to check them out because they're on sale for $2.00 each on Kindle until March 1st. Here's where you can buy them:

Make sure to sign up for my New Book Alert, so you know when I've got a book coming out. Subscribers can win prizes and get free novellas...even bookmarks! (My New Book Alert subscribers received The Irishman's Christmas Gamble for free when it was released!)
Wishing you wonderful reading!
Warmest regards,